---
Hall of Fame
– Chicago Coin Club –
Member 6
Lee Francis Hewitt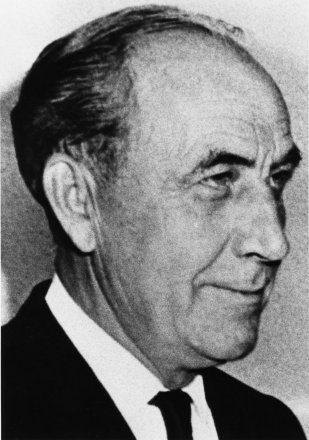 On February 3, 1932, Lee Francis Hewitt joined the Chicago Coin Club as member No. 215. A frequent exhibitor, he provided many services to the Club over the years, receiving the Club's Medal of Merit in 1957; he was elected President in 1971.
Mr. Hewitt (January 1, 1911 - April 15, 1987) traveled with a circus band before joining his brother Clifford in the printing business in the early 1930s. Over his long career he wrote Mint Record of United States Coins (with fellow Chicago Coin Club member C. E. Green), Price Catalog of Hard Times Tokens, United States Numismatic Dictionary (with Ted Weissbuch), Hewitt-Donlon Catalog of United States Small Size Paper Money (with Willian Donlon), and Nevada Gaming Tokens. In addition to his own works, he reprinted Crosby's Coinage of 1793 and Newlin's Early Half Dimes, eventually publishing a number of original booklets in his Hewitt Numismatic Information Series.
In January 1935, Mr. Hewitt founded Numismatic Scrapbook Magazine, originally intended to reprint classic numismatic studies (thus the name). It quickly expanded, added news and original articles, and eventually bulged with advertising. Sold to Amos Press in 1968, it was discontinued by them in 1976. Mr. Hewitt was very instrumental in the revival of proof set issues in 1936. He spearheaded the formation of the Central States Numismatic Society, and received their Medal of Merit in 1959.
Mr. Hewitt was appointed temporary editor of The Numismatist from Sept. 1, 1942 through the end of the year, following the unexpected resignation of Frank Duffield. And in 1943, he was drafted, serving in the Military Police until 1946. Despite these obstacles, neither The Numismatist nor the Scrapbook missed an issue during this time. He received the ANA Medal of Merit in 1950 and the Farran Zerbe Award in 1962. In 1978 he was elected to the ANA Numismatic Hall of Fame.
From time to time pricing mistakes would appear in the Numismatic Scrapbook, due to copy, typographical, or proofreading errors, and readers would flood the advertiser with orders for "bargains," much to Mr. Hewitt's annoyance. After repeatedly warning of the possibility of such mistakes, he wrote an Editor's Note in the January 20, 1958, issue, "No, Virginia, There Isn't a Santa Claus," adding, in the June 20, 1959 issue, "Don't Believe in Santa Claus; At Least Not in the Coin Business," and occasional later issues under "No Santa Claus" or similar headings. After he sold the magazine, this note became standardized as "There is no Santa Claus in numismatics" — now credited to him.
Tall and dignified, with a deep voice, Mr. Hewitt commanded respect from all. In his obituary in the May 1987 Chatter, Carl F. Wolf, Chicago Coin Club Archivist, wrote: "he was honest and 'called the shots as he saw them.'… [he] had great powers of concentration and had an outstanding ability to absorb and retain information, which could best be described as an archival memory."
(Image courtesy of ANA.)
---
Page history: created on 28-May-2019; last updated on 19-Sep-2019.
---