---
Chicago Coin Club
90th Anniversary
The Chicago Coin Club celebrates it 90th Anniversary with medals and a banquet to be held during the 2009 Chicago International Coin Fair (CICF).
ORDERING INFORMATION is on a separate page.
The die-struck medals measure 2-3/8" X 4" X .204". The front of the medal features a high-relief rendition of Augustus Saint-Gaudens' Standing Lincoln statue that is located in Chicago's Lincoln Park. The reverse contains identifying text.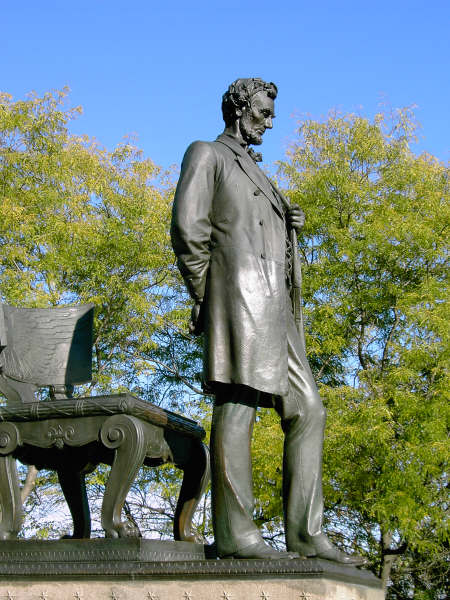 The die is undergoing small changes, so here is a picture of the statue. The chair will not be included on the medal.
The dinner banquet starts with an open bar at 6 PM on Saturday, April 25, and is held at Gianotti Italian Steakhouse, 4926 N. River Road in Schiller Park, a healthy walk from the site of the Chicago International Coin Fair. Reservations are required.
The dinner will be followed by a program. The featured speaker is David Hendon.
This page will be updated as the details are finalized.